Jackpot Mini Slot Machine

I was never one for gambling, but I always harbored an attraction to slot machines. I had a little green toy slot machine made from plastic when I was a little kid that ran on batteries, and then my grandpa gave me a nicer one whose front was made from real metal and only allowed you to pull the lever after you inserted a penny, which could of course be easily retrieved afterwards.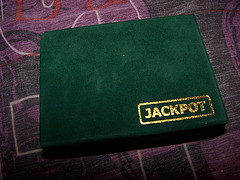 Both of these toy slot machines however had only a single reel, so there was no variety in the symbols which rolled up. I have little affection for the flashy electronic video slots of today's casinos, the little, humble mechanical devices that took (and sometimes gave) nickels and quarters and worked by old fashioned clockwork are always my favorite.
While visiting a friend, I came across a little game called Jackpot at a game store in the board game section. A little red device the size of an old fashioned pedometer with slot machine symbols on its reels that included chips for betting with. It looked interesting enough, so I brought the game home as a souvenir,
Upon return home I opened it up to find that though it looked nice in the pictures, it was far less of a toy than the packaging may have implied. Apparently this device is a reproduction of a miniature slot game played during the later phases of the Great Depression as a form of "income" between friends.
It comes in a sturdy, storage box covered in the green felt of gaming tables. I likely damaged the upper left corner of the box not carrying it gently due to me assuming that the box was just disposable packaging. I didn't realize the box was reusable until I removed the outer packaging.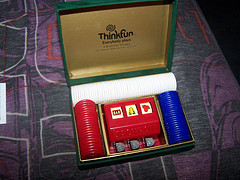 The miniature "slot machine" has three levers, one for each reel. It would perhaps have made more sense to have all three levers be connected by a single bar so that pressing one would press them all, but they are variants of gameplay recommended in the little instruction card in which a player can pay to re-spin one of the reels to improve their result, so having separate levers is really a necessity and increases the variety of games that can be played.
Simply pressing the lever will turn the reel to a random new symbol, but it takes a good hard tap to send the reels spinning rapidly like the real thing. The only complaint or improvement I'd suggest for the slot machine device would be a grip for the base so that it doesn't slide around the table when the levers are struck.
Aside from the slot machine itself, Jackpot also comes with an instruction card with several suggestions for games for one or multiple players, a score chart, and 100 plastic chips, (25 red, 25 blue, and 50 white). The chips of course can be replaced with coins for actual gambling, or better yet, chocolates or jelly beans, which is appropriate enough as many old slot machines were really "candy machines", whose candy could by coincidence could be "returned" to the shop keeper for money should the winner not be in the mood for a snack.
I've only had the chance to play Jackpot solitaire, and in this form it's a fun, somewhat mindless game in which the odds are greatly stacked against the player, yet is oddly satisfying and exciting, probably just like an actual slot machine. It's probably fun in groups as well.
A video demonstration seems to be in order.
The company that makes Jackpot also made a miniature bingo game with little cards and spots, and adapted the slot machine into a number caller, which just like Jackpot, be used for either innocent non-monetary fun, or actual gambling depending on the player's intent, and are fun games of chance for either children or adults.

To submit feedback, including fan mail, love letters, and legal threats, please use the site
guestbook
or email the webmaster at,

<<<< Back to STSH - TALE